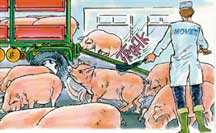 FARMERS AND BUTCHERS - SAY YES T0

To Quickly move animals on the farm

To Facilitate loading and unloading

To Have healthly and sound meats

To Finally eliminate the problem of slaughtering waste
FARMERS, SLAUGHTERERS SAY

NO! To hams with bruises and bleeding

NO! To poor quality meats of stressed and distressed animals

NO! To animals dying of heart attack

NO! To the houge losses caused by these problems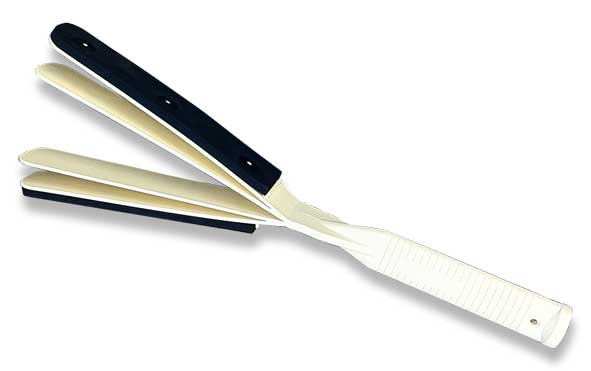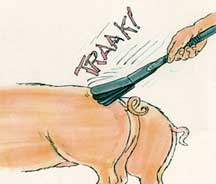 Intensive breeding and the industrial meat market calls for the necessary movement of large groups of animals in their various stages of productive life. The animals react badly in general all these sudden changes to their routines in which they are used to clearly transformed into reactions of resistence. As a consequence the staff come and are inclined to be ruthless against the animals to obtain the results wanted. The work procedes slowly and badly; the animals became more upset; the injuries are to the order at the day and are often serious; the qiuality of the carcass and of the meat suffers heavily.
The Members of the National Healt Srvice are sensitive towards the well being of the animals and struggle towards a critical position against their bad threatment.
MOVET is therefore present as the tool to respond efficiently and fairly to the necessary movement of the animals and also with respect for them.